Gold Price Forecast Trend Chart 2011 2012 2013 2014 2015 2016
An introduction to gold price forecast trend chart 2011 2012 2013 2014 2015 2016
This article is about gold price trend chart that predict gold price trends. When I did my first gold and silver articles the price of gold was at about US$1500 per oz. Today, 31st August 2011, it has reached $1800. Do note that the intra-day highs have hit US$1900.
What is the price of Gold today?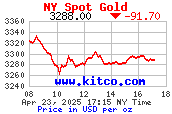 Gold price forecast trend chart for 2011, 2012, 2013, 2014, 2015, 2016
The gold price forecast trend chart is as shown in the chart below for the years 2011 to 2016.
Do note that I have used one data point per year. That is the data is the average price for the year. This allows me to carry out gold price trend analysis with easy. You can can use once a month data but you will have at least 120 points on your chart. If you would like to place this chart on your website or blog or forum without any modifications please copy and paste the contents of this file http://drpetersnews.com/goldlink.txt in your html code of your website
Speculators point of view
If you are a speculator then I would suggest you buy when the price of gold drops close to or below the predicted trend line and sell when it is above the predicted trend line.
Investors point of view
If you are investing in gold, which means that you are not tracking the price everyday, and are monitoring the price movement every two or three months, I would suggest you sell gold before it reaches the top. Please do note that the data, charts and predictions or forecast given here is not to induce you to trade in gold, take risk, or make profits or losses. It is simply a statement to show you how my theories can be used. I, personally, am not invested in silver or gold as I know that if I take a position my writings will be very biased and dependent upon my position in either commodity. I plan to write another article on the problems faced as gold prices climb but that is for another day.
Summary of gold price forecast trend chart
In between, 2011 and 2016, there will be ups and downs and it is not shown in my trend chart forecast. Do be careful as we approach 2016 because I believe that the price of gold will fall a lot. I will need some time to do the analysis and try to predict to what level the price could fall to by 2016.

1. Learn how to do this gold price prediction with your own data

2. Having read about gold price forecast trend charts you may be interested in our silver price prediction

4. Previous article on Gold price

5. How to predict and time the markets

More Commodity Charts

9. Soybean prices forecast chart 2013 2014 2015 2016 (20 Janury 2013)

8. Palm Oil price trend prediction 2012 2013 2014 (14 Janury 2013)

7. Brent Crude price forecast 2012 2013 2014 (12 December 2012)

6. Soybean prices commodity chart prediction for day traders and others (10 October 2012)

5. My rapeseed commodity chart prediction useful for day traders and others (17 September 2012)

4. Gold price and business opportunities<\/a> (7 September 2011)

3. Gold price forecast trend chart 2011 2012 2013 2014 2015 2016 (31 August 2011)

2. Gold price forecast 2011 2015 (15 July 2011, updated 18 July 2011)

1. Approximate silver price trend prediction chart june sept 2011 (9 July 2011)

- Dr. Peter Achutha, 31st August 2011.