Market Predictions
Gold, Silver, Coffee, Rubber, Soya Bean, Palm Oil, Brent Crude,... and many more, all can be done

Dr. Peter's Custom Site Search

This site is about stock market analysis, commodity trend predictions, forecasting trends, financial systems, gold trend, silver trend, property investments and real estate.




Click top right to change currency to US$.
Best books on tips, tricks and techniques on stock market and commodity trends analysis and my fiction short story book
Property: Bangsar house for sale



This is a Bangsar house for sale, 4 storey town house (or terraced house) with 6 rooms and 3 bathrooms and a large store room, located in Bangsar, Kuala Lumpur. Rumah untuk dijual. It is a 4 storey town house with a built up of 3400sf. Very well maintained and clean and currently being used as the owner's office. There is plenty of car park space in front of the house. Available for sale immediately.

Front View of
Bangsar house for sale



From the outside, this town house looks like a double storey link house or terrace house but when you enter you will notice that it is actually a 4 storey house for sale. The porch is long and could probably accommodate one or more cars. This Bangsar house for sale is well maintained and is clean and very good condition as the owner is using it as his office.There are 4 air conditioners.

The front view of the
Bangsar house for sale



Even though we show you a view across the road from this Bangsar house we will describe the internal layout of the house. As the house is being used as an office we could not take photos of the inside for security reasons. The top floor has the main living room and kitchen which is reasonably spacious. The lower floor has a hall and a large store room. The next floor has two rooms one of which is the master bedroom with attached bathroom. The lowest floor has two bedrooms with a common bathroom.
The view of the road leading up to the B
angsar house for sale
As you can observe from the photos there is plenty of car parking space in front of this Bangsar house for sale as there are no other houses facing it. This ensures a higher degree of privacy. And as is the case they drive wonderful cars in Bangsar. The coconut trees in the picture make it look like you are living on a paradise island but still connected to city life.
Summary
of the
B
angsar house for sale
Type: 4 Storey Town house
Size : 3400sf
Rooms: 6 rooms 3 bathrooms plus a store room
Conditon: Well maintained and clean.
Comments: very quite area of bangsar.
1. Checkout our list of condo's for sale or for rent please visit our apartments and condominiums page
2. Checkout our list of house's for sale or for rent please visit our houses page
3. Checkout our list of shops's for sale or for rent please visit our shops for sale & to let page

Are you looking for anything specific other than this Bangsar house for sale? If you would like to view other bungalows, houses or properties or need financing or bank loan click here Also see factories, shops, land. If you have spent a lot of time on the internet and would like a break from looking for Bangsar house for sale please check out my Bread Diaries.


Please contact Dr. Peter Achutha h/p: 016 - 263 0358 for more details on this Bangsar house for sale

Properties For Sale / Rent
Both Feedjit (above) and Flag Counter (below) under count but I leave them there as they look beautiful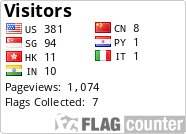 Fast Budget Web Hosting
Peter Publishing Web Hosting
Reliable Fast Web Hosting for beginers and for pros. We have low cost budget web hosting plans and plans for professional marketers, bloggers & e-commerce. See our pricing and details
WordPress SEO Optimisation
WordPress SEO Optimisation Want to have your Wordpress blog optimised to rank highly in Google Search Engine? I have been using this product for quite some time and it is very effective.
.....Click Here!......
Market Predictions
Gold, Silver, Coffee, Rubber, Soya Bean, Palm Oil, Brent Crude,... and many more, all can be done


Property Buyers & Sellers Contact Dr.Peter Achutha to get a Free Gift. Submit Property for Sale or Request to Purchase Property

This website is dedicated to property investments and financial system prediction, stock market trend prediction & commodity trend prediction.

Copyright (c) Peter Publishing, 2011


Click top right to change currency to US$