Market Predictions
Gold, Silver, Coffee, Rubber, Soya Bean, Palm Oil, Brent Crude,... and many more, all can be done

Dr. Peter's Custom Site Search

This site is about stock market analysis, commodity trend predictions, forecasting trends, financial systems, gold trend, silver trend, property investments and real estate.




Click top right to change currency to US$.
Best books on tips, tricks and techniques on stock market and commodity trends analysis and my fiction short story book
House for sale
House for Sale
If you are looking for a house for sale you have come to the right place. We have many houses for sale listed on this site. If you are planning to put your house for sale please do contact us. We will definitely help you.
Looking for a house for sale
There are several factors to consider when you are looking to purchase a house. They are as follows:-
1. Location of the house.
This is the most important consideration for many prospective house buyers. Many look for something near their place of work or near their relatives, family and friends. Some look for accessibility to the main shopping areas of town and others look for seclusion an isolation. Some house buyers, especially the those nearing retirement look for a house that is suitable for retirement life and yet others, like young families, look for something near their children's school.
2. Your budget
Your budget is extremely important consideration. Based upon your monthly salary you can determine how much you could comfortably make monthly payments towards the house loan. Please use my Loan Calculator to determine what is the price range of the house you plan to purchase.
3. Other considerations when you looking at a house for sale
You need to narrow down your requirements such as:- a. Is status of the land or property important? Will it be freehold or leasehold or it does not matter? b. Your preferred land area. Normally many of us make a trade off between location and land size with respect to your budget. You may want a land area of 8000 sf but it may be outside your budget if you are looking for a bungalow for sale in Kuala Lumpur. On the other hand moving further to the outskirts like Puchong, Sungei Buloh, you may find one that fits a tight budget. Or you may look at a 24 x 80 link house and than purchase a 22 x 80 link house because it has been beautifully renovated. This is the comfort and satisfaction factor that sways your decision.
4. Are you purchasing the house for investment or as your own home?
When you begin your search for a house for sale you will definitely have some idea what is the house for. Generally, house buyers are either looking for a house as an investment or as home buyers to live in. Are you a house buyer or a home buyer? If you are looking for a house for sale to purchase as an investor you would rent it out upon having the title transferred into your name. From my experience in Real Estate if you are looking at low to medium to medium-high cost properties, go for something that is near an LRT station, commuter train service or a bus stop, that is something that is easily accessible by public transport. If you are looking at high end property then go for gated communities, seclusion, privacy with plenty of greenery and preferably with a mature garden and even a swimming pool.
Other considerations when looking at a house for sale
There are other considerations when you are looking at a house for sale. Look for tell tale signs. Is the house for sale well maintained, is it clean? Try visiting the house for sale on a rainy day. Does the roof leak? Is there a stink in the area? How are the neighbours of the hose for sale? Some buyers are choosey about the direction the house faces. Take a compass to check out the direction of the house for sale. If you need me to arrange a loan for the property your have decided to purchase I can put you in touch with some of the banks. Once you have purchase that house for sale the shopping begins. Hence it is always best to budget a bit extra for your dream home.
How to sell your house
If you have a house for sale I will definitely consider listing your property on this website. We have our network of clients and agents that can help you sell your house. Firstly, you will have to give us some basic information of the property, please fill up the form supplied with the details of the house for sale or give me a call. Then I need to visit and inspect the premises and take some photos. As a seller many think that giving the details of your house for sale to every agent in town improves the chances of sale. Unfortunately, most of the time it does not work that way as many agents spend a lot of money advertising and when they are not the exclusive agent it becomes very expensive to promote your house for sale.
Please take a look at some of our houses for sale below.
Properties For Sale / Rent
Both Feedjit (above) and Flag Counter (below) under count but I leave them there as they look beautiful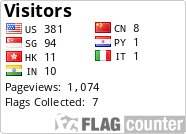 Fast Budget Web Hosting
Peter Publishing Web Hosting
Reliable Fast Web Hosting for beginers and for pros. We have low cost budget web hosting plans and plans for professional marketers, bloggers & e-commerce. See our pricing and details
WordPress SEO Optimisation
WordPress SEO Optimisation Want to have your Wordpress blog optimised to rank highly in Google Search Engine? I have been using this product for quite some time and it is very effective.
.....Click Here!......
Market Predictions
Gold, Silver, Coffee, Rubber, Soya Bean, Palm Oil, Brent Crude,... and many more, all can be done


Property Buyers & Sellers Contact Dr.Peter Achutha to get a Free Gift. Submit Property for Sale or Request to Purchase Property

This website is dedicated to property investments and financial system prediction, stock market trend prediction & commodity trend prediction.

Copyright (c) Peter Publishing, 2011


Click top right to change currency to US$