Best books on tips, tricks and techniques on stock market and commodity trends analysis and my fiction short story book
Kota Kemuning Selangor corner shop for sale


This is a three (3) storey corner shop lot in Kota Kemning, Selangor for sale. Kota Kemuning is a new township just off the KESAS highway in between PJ / Shah Alam and Klang. Many up market residents of Klang have moved to Kota Kemuning. If you are working near Proton Hicom factory in Shah Alam or in Klang or even near F&N, in Shah Alam, you could consider Kota Kemuning or Bukit Rimau for a home. Kota Kemuning is also under Shah Alam and is Section 31, Shah Alam.
This Kota Kemuning corner shop for sale is 34 ft x 75 ft which means that it is quite a wide shop. It is fully renovated and extended. The land status is freehold. Freehold is always a good investment as the land actually belongs to you.
Why Kota Kemuning? Well, Kota Kemuning is similar to Shah Alam in that the roads are very broad unlike the rest of Petaling Jaya and Kuala Lumpur.
Front View of
Kota Kemuning Selangor corner shop for sale

As you can observe from the picture above, the ground floor of this corner shop for sale is slightly elevated from the road, hence during a heavy down pour excess water flowing along the road cannot flow into the shop. The trees make the area cool as they block direct sunlight and provide a welcome shade to the shop and its occupants. There is plenty of parking space and along the side of this Kota Kemuning corner shop for sale. This location is ideal for a tire service center or air con maintenance or automobile repair garage. Across the road there is a new development taking place.
Summary of Kota Kemuning Selangor corner shop for sale
Type: 3 storey corner Link shop lot / terrace shop lot
Size : 34 x 75 ft
Land Status: Freehold
Tenant: Currently there is a tenant upstairs
We have not inspected the inside of this corner shop for sale nor the upper floors but we could arrange for you to view the premises at a time convenient for you. The owner is free most mornings to let you view the inside of this Kota Kemuning corner shop. Please do gives us one or two days notice to visit and inspect the premises if you would be interested in purchasing this corner shop for sale.
If you are looking for ground floor shop in Kota Kemuning for rent do please contact us as we may have a couple of ground floor units for rent in Kota Kemuning, at the time of writing this article.
Are you looking for anything specific other than this Kota Kemuning Selangor corner shop for sale? If you would like to view other bungalows, houses or properties or need financing or bank loan click here Also see factories, shops, land. If you have spent a lot of time on the internet and would like a break from looking for Kota Kemuning shop for sale please check out my Bread Diaries.


Please contact Dr. Peter Achutha h/p: 016 - 263 0358 (Exclusive Agency) or Mr. Francis Cheah h/p: 016 - 903 5201 for more details on this Kota Kemuning Selangor corner shop for sale
Properties For Sale / Rent
Both Feedjit (above) and Flag Counter (below) under count but I leave them there as they look beautiful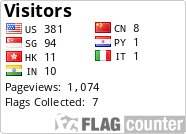 Fast Budget Web Hosting
Peter Publishing Web Hosting
Reliable Fast Web Hosting for beginers and for pros. We have low cost budget web hosting plans and plans for professional marketers, bloggers & e-commerce. See our pricing and details
WordPress SEO Optimisation
WordPress SEO Optimisation Want to have your Wordpress blog optimised to rank highly in Google Search Engine? I have been using this product for quite some time and it is very effective.
.....Click Here!......
Market Predictions
Gold, Silver, Coffee, Rubber, Soya Bean, Palm Oil, Brent Crude,... and many more, all can be done


Property Buyers & Sellers Contact Dr.Peter Achutha to get a Free Gift. Submit Property for Sale or Request to Purchase Property

This website is dedicated to property investments and financial system prediction, stock market trend prediction & commodity trend prediction.

Copyright (c) Peter Publishing, 2011


Click top right to change currency to US$