Market Predictions
Gold, Silver, Coffee, Rubber, Soya Bean, Palm Oil, Brent Crude,... and many more, all can be done

Dr. Peter's Custom Site Search

This site is about stock market analysis, commodity trend predictions, forecasting trends, financial systems, gold trend, silver trend, property investments and real estate.




Click top right to change currency to US$.
Best books on tips, tricks and techniques on stock market and commodity trends analysis and my fiction short story book
Property: Shah Alam factory for rent 54000sf


This is a modern newly built Shah Alam factory for rent. We have several factories for rent in and around Klang Valley and we have other factories for sale. Please do contact us for more information. This particular factory is located in Shah Alam section 31 ( Seksyen 31 ) which is near to Jalan Bukit Kemuning and there is easy access to the KESAS Highway.
This Shah Alam factory is newly constructed with modern design features such as no support pillars in the factory floor. There is a small canteen on the ground floor and a surau behind the office area of the factory on the first floor. The entrance to this Shah Alam factory is spacious and container trucks can easily enter the building. There is ample car parking for staff at this factory.
Front view of Shah Alam factory for rent 54000sf
As you can observe from the photo above the factory is gated with its own security guard house. The gates are wide to easily accommodate long container trucks. The above factory is for rent at RM1.50 per sq ft and the rental is RM53,000/- per month. Please see the dimensions below.
Side view of Shah Alam factory for rent 54000sf
There are many car parking lots along the side of this Shah Alam factory. The length of this Shah Alam factory is 260 feet and the width is 115 feet. This is a brand new factory and is in very good condition.
Inside view of Shah Alam factory for rent 54000sf
As you can observe 29,000sf is a huge area without any pillars within the factory floor area.
There is a large front entrance into the factory area. It appears that container trucks can enter from this front entrance of this Shah Alam factory.
Summary of Shah Alam factory for rent 54000sf
Land Area: 1.25 acres (54,000sf)
Ground Floor Factory & Office Dimension: 115ft x 260 ft = 29,000sf
1st Floor Office: 30 ft x 90 ft = 2700sf
2nd Floor Office: 30 ft x 90 ft = 2700sf
Electrical Supply: 300 Amps Height at eaves: 40 ft
Floor Loading: estimated 380lb psf or 2T psm
Fire Fighting: Heat Detectors & Hose Reel. No Sprinkler but with Bomba Cert
Rental: RM1.50/- per square foot = RM53,000/-
Please do gives us one or two days notice to visit and inspect the premises if you would be interested in renting this factory.
Are you looking for anything specific other than this Shah Alam factory for rent 54000sf? If you would like to view other bungalows, houses or properties or need financing or bank loan click here Also see factories, shops, land. If you have spent a lot of time on the internet and would like a break from looking for Shah Alam factory for rent factory to let 54000sf please check out my Bread Diaries.
Contact: Dr. Peter Achutha h/p: 016 - 263 0358 or Email us for more details on this Shah Alam factory for rent 54000sf
Properties For Sale / Rent
Both Feedjit (above) and Flag Counter (below) under count but I leave them there as they look beautiful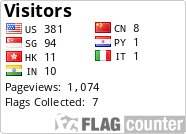 Fast Budget Web Hosting
Peter Publishing Web Hosting
Reliable Fast Web Hosting for beginers and for pros. We have low cost budget web hosting plans and plans for professional marketers, bloggers & e-commerce. See our pricing and details
WordPress SEO Optimisation
WordPress SEO Optimisation Want to have your Wordpress blog optimised to rank highly in Google Search Engine? I have been using this product for quite some time and it is very effective.
.....Click Here!......
Market Predictions
Gold, Silver, Coffee, Rubber, Soya Bean, Palm Oil, Brent Crude,... and many more, all can be done


Property Buyers & Sellers Contact Dr.Peter Achutha to get a Free Gift. Submit Property for Sale or Request to Purchase Property

This website is dedicated to property investments and financial system prediction, stock market trend prediction & commodity trend prediction.

Copyright (c) Peter Publishing, 2011


Click top right to change currency to US$