Best books on tips, tricks and techniques on stock market and commodity trends analysis and my fiction short story book
Property: Shah Alam warehouse for sale
This is a Shah Alam warehouse for sale and we have several factories for sale or warehouses for sale. The photos below shows just one warehouse for sale. It was a rainy day when we went down to inspect the property which was good as we did not notice any leaks and the warehouse was quite dry inside. This warehouse is located Shah Alam section 35, Selangor, Malaysia. The land status for this Shah Alam warehouse for sale is leasehold for 80++ years.
Side View of Shah Alam warehouse for sale
As you can see from the picture of the side of this warehouse it has a high roof of about 35 feet and the doors are about 20++ ft. This warehouse is currently in use with many container trucks coming in and going out everyday. The advantage of this location is that there is plenty of parking space in the compound of this Shah Alam warehouse for sale. The compound is gated with its own security guard house. It was built in the 1980's and hence needs some refurbishing and renovation. The above picture shows this warehouse complex consist of two warehouses located in the Shah Alam section 35 property. The front building is about 34,500 sf (without the office space) and the back warehouse is about 158,400 sf.
View from the middle of the Shah Alam warehouse for sale

Even though we took these pictures on a very rainy day you will notice that the place did not have any streams overflowing or pooling around the vicinity. This is mainly due to the good drainage. There is more car park space in front of this Shah Alam warehouse for sale. As you can observe from the picture above the warehouse building on the right is the smaller one and the warehouse building on the left is the larger building. The building on the right consist of three warehouses separated by walls. Each of these warehouses have their own doors.
Drawing of the Shah Alam warehouse for sale

As you can observe from the drawing above this warehouse consists of two buildings. The first building has the office space and is warehouse A and is about 34,500sf with an additional 4900sf on the side. The second building consist of 3 warehouses. Warehouse B1 is 46,000 sf, warehouse B2 is 52,800 sf and warehouse B3 is 59,600 sf. This warehouse is of an older design.
Summary of Shah Alam warehouse for sale
Type: Gated Warehouse complex
Land Area: 9.7 acres
Land Status: Industrial, Leasehold 80++ years.
Built up: Office : 7,000 sf
Warehouse A: 34,500 sf
Warehouse B1: 46,000 sf
Warehouse B2: 52,000 sf
Warehouse B3: 59,600 sf
Conseal Warehouse: 5,500 sf
Total Built Up: 205,400 sf
Sale: RM 40,000,000
Conditon: Needs renovation and refurbishing
Are you looking for anything specific other than this Shah Alam warehouse for sale? If you would like to view other bungalows, houses or properties or need financing or bank loan click here Also see factories, shops, land.
Please contact Dr. Peter Achutha h/p: 016 - 263 0358 for more details on this Property Shah Alam warehouse for sale
Properties For Sale / Rent
Both Feedjit (above) and Flag Counter (below) under count but I leave them there as they look beautiful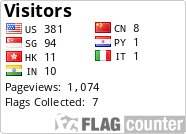 Fast Budget Web Hosting
Peter Publishing Web Hosting
Reliable Fast Web Hosting for beginers and for pros. We have low cost budget web hosting plans and plans for professional marketers, bloggers & e-commerce. See our pricing and details
WordPress SEO Optimisation
WordPress SEO Optimisation Want to have your Wordpress blog optimised to rank highly in Google Search Engine? I have been using this product for quite some time and it is very effective.
.....Click Here!......
Market Predictions
Gold, Silver, Coffee, Rubber, Soya Bean, Palm Oil, Brent Crude,... and many more, all can be done


Property Buyers & Sellers Contact Dr.Peter Achutha to get a Free Gift. Submit Property for Sale or Request to Purchase Property

This website is dedicated to property investments and financial system prediction, stock market trend prediction & commodity trend prediction.

Copyright (c) Peter Publishing, 2011


Click top right to change currency to US$